Latest 60th Reunion Details
Events are planned for Friday, Saturday and Sunday. See the the details here. Don't forget to update your profile so that you receive all of our correspondence. Let us know what your plans are.
You Won't Want to Miss The 60th Reunion
Your ideas are welcome
Save the day - August 6, 2016. Can you believe it's been sixty years? The main festivities will take place at Maggiano's in the Beachwood Place Mall. The reunion committee is hard at work planning our 60th reunion celebration. If you have any suggestions the committee wants to hear from you. Better yet, if you want to join the committee let us know. Lois Ginsberg Simon.
Are You Coming to The 60th Reunion?
Let Us Know Your Tentative Plans
Coming or not. Even if you don't know yet, we can better plan the event if you inform us.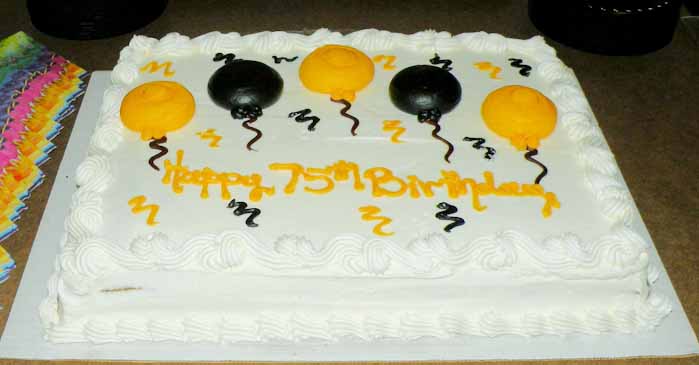 Phenomenal 75th Birthday Party
It was attended by 90 people including 55 classmates. Mort Biel, our history teacher, and his lovely wife Claire were also there. The party was at the Winking Lizard party room in Bedford Heights. The DJ played 50s music and some people actually danced, but most listened and occasionally sang along. See the great photos in the scrapbook.
Decorations were black and gold balloons (of course). We had a birthday cake and sang Happy Birthday to ourselves! Carole Hershey Walters was the contact person and banker. Edie Goldstein did the name tags (so we could remember who was who/whom). Sue Rein Bailys, Judy Fierstein Simkow and Talu Gilden Glauber were the liaison people who worked with the Winking Lizard to facilitate the decisions that the whole committee voted on to serve. Bev Perry Pollack did the decorations. Classmates came from California, South Carolina, Rhode Island, Nashville, Columbus, Chicago, Boston and the East and West sides of Cleveland.
A good time was had by all. We are looking forward to our 60th reunion which will be in 2016!
70th Birthday Party
A class birthday party to celebrate everyone's 70th took place Saturday June 28, 2008, at Landerhaven, Mayfield Heights, Ohio.
50th Reunion - June 23-25, 2006
Our 50th reunion open house was attended by over 130 classmates and their guests on Friday night. It was a memorable event for renewing acquaintances and friendships. Lots of photos in the scrapbook.
Over 150 classmates and guests attended the Saturday night dinner-dance held at the Beachwood Marriott. Tunes from the 50's provided the background for extensive socializing and dancing. The Memory Book, distributed to everyone, supplied insight into what classmates have been doing for the past 50 years. We have been a busy, creative and productive bunch. Awards were made to the individuals with the most grandchildren (13) and the fewest years since their first marriage (30). The entertaining and well performed skit opened a window into the world of 50 years ago.
Class Photo Taken on Graduation Night
It is so detailed that you can probably identify yourself in the picture.